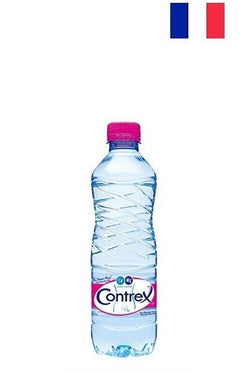 Contrex (500ml) Natural Mineral Water - Case/24 Bottles
Please message the shop owner for order details.
Contrex is a pure natural mineral water rich in calcium and magnesium. The health benefits of the spring water surging from a "mineral fountain" in Contrexéville, were first discovered in 1760 in the Vosges Mountains of France and quickly earned an international reputation for excellence.

Contrex can provide you with much of the daily recommended doses of calcium and magnesium. Calcium and magnesium both play roles in metabolism,so maintaining adequate stores of these minerals can help keep you healthy and slim.

Contrex water is suitable for today's busy woman, expected mothers and breast feeding mothers to maintain adequate calcium and magnesium levels, to stay hydrated, and to stay beautiful inside and out.

Typical Analysis (mg/L)

Calcium         468
Magnesium   74.5
Sodium          9.4
Potassium     3.2
Bicarbonate 372
Chloride        10
Sulfate           1121



A standard case contains 24 bottles.