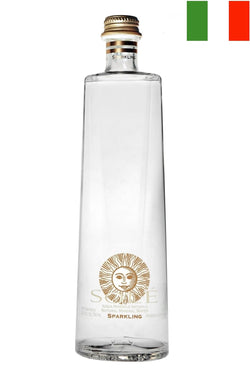 Solé (750ml) Arte Natural Mineral Water (Sparkling) - Case/12 Bottles
Please message the shop owner for order details.
Founded in 1906, Solé remains an artisanal company with environmental friend attitude of using recycled glasses for their bottles. Solé water is sourced from "Via Antica Fonte"in Nuvolento (in the northern part of Italy, foothills of the Italian Alps) and corresponds to the point at which the limestone-dolomite formation meets the alluvial deposits from the valley of the river Chiese. The well-balanced group of minerals in water is derived from a natural filtration process as the water works its way through varying geological rocks and minerals to the underground and well-protected source.

Water is microbiologically pure. The Calcium/Magnesium ratio 3:1 is ideal for sweet tasting water and for digestion. This ratio assists the expulsion of gravel and small kidney stones and can help prevent the growth of large ones. Water contains low content of sodium, which is suitable for daily consumption, particularly recommended for low-sodium diets, and for giving to people with cardiac diseases and hypertension.

Another chemical characteristic is its calcium content. This is very important especially during pregnancy and for skeletal development during adolescence, where 45% of total body calcium settles during post-menopause and for elderly, many studies have highlighted the beneficial role of calcium in reducing bone loss. In addition to being the main constituent of bones and teeth, calcium is a regulator of normal functioning of nerve tissue and blood coagulation.

Typical Analysis (mg/L)

Calcium         102
Magnesium    28
Sodium           3
Bicarbonate    417
Chloride           5
Potassium       1
Sulphate          15
Silica                 7

A standard case contains 12 bottles.